Enabling Powerful POC and Mobile Diagnostics
LamdaGen Corporation is a privately held developer of nano-based biosensors and powerful testing systems.  The Company's core diagnostic technology is a quantitative immuno-based platform that combines the high sensitivity of an ELISA with the simplicity and speed of LFA to enable quantitative detection of diseases, pathogens and contaminants.
There is a global need for advanced technologies that enable highly sensitive and quantitative detection to provide precise results at point of use in ~15 minutes.
To meet this need, LamdaGen has developed L'AuRa – a category-defining digital testing platform that enables significant performance and use advantages vs multi-hour ELISA's and Lateral Flow assays.
LamdaGen's L'AuRa digital technology enables robust diagnostic systems that are simple, compact and cost effective.  L'AuRa's flexible designs range from miniaturized handhelds to small desktops to lab-based throughput systems – each providing powerful on the spot performance including  – rapid fifteen minute quantitative assays with LOQ's into the low pg/mL or parts per trillion (PPT) range*
LamdaGen licenses its sensing technologies on an open-source basis to companies in the following sectors.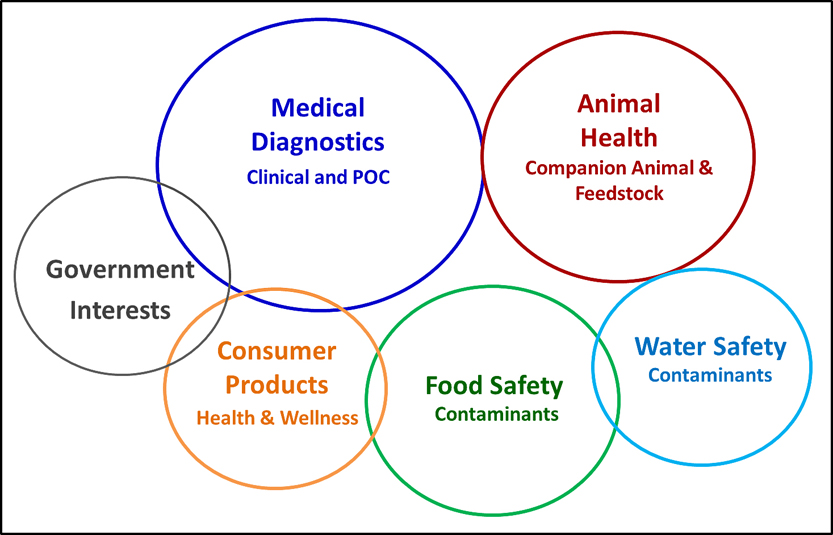 *Model dependent
---
The L'AuRa diagnostic system is ideal for enabling high sensitivity, quantitative POC, mobile rapid testing.
LamdaGen's metallic thin-film LSPR-based Optical Biosensors for research and development in the areas of Life Science and Cleantech.
LamdaGen and Arisan Receive $2 M NIH SBIR Phase II Grant to Advance Development of a Single, Rapid POC Assay for Detection of Acute Dengue and Zika Viral Infections Read More ...
Introducing L'AuRa – the result of diligent discovery, state of the art nano-science and a collaborative team penchant for uncompromising precision Read More ...
LamdaGen Corporation Receives Notice of Allowance to Grant European Patent for Enzymatic Assays Performed on LSPR Based Plasmonic Nano-Sensors Read More ...